Momiji come with a warning: they're oddly addictive. Before you know it you'll have a little huddle on your desk. Or a mini Momiji army standing to attention along the edge of your bookshelves. Don't say we didn't warn you.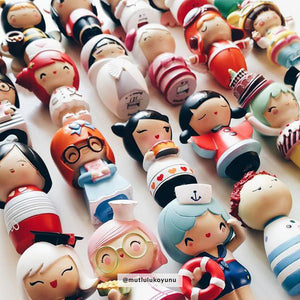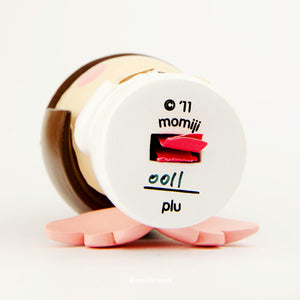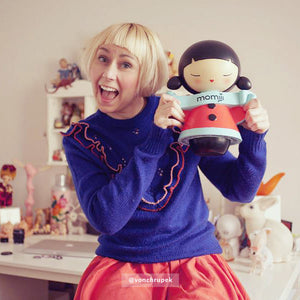 It makes us happy to know that there are millions of Momiji out there, each hiding handwritten wishes, messages and memories, passed between friends and favourite people.
Momiji collections are precious for many reasons and they can become also become super valuable. We've even seen some rare dolls sell for over $1000 on eBay.
We've done our best to include all the information you might need about each doll in The Archive but if you have any questions then we're always happy to try and help.
Starting your collection
There are different ways to begin your Momiji collection. You can start by building your lovelist to keep track of the dolls you've fallen in love with. (This could be handy for dropping not-very-subtle hints around your birthday.)
We know a few people who have complete collections and own every single Momiji we've ever created. Some people just collect Christmas Momiji and love to unpack them when they're feeling festive in December. Other collectors are dedicated to a particular Momiji designer and then there are those who have a more higgledy-piggledy approach and love to receive a doll from friends and family on their birthday or other special days.
The Archive is the best place to see everything, you can explore every Momiji doll since day one and find out about who designed it, when it was released, the edition size and how it was packaged. You can explore Momiji by theme if you're looking for something in particular, like Halloween themed dolls or Birthday dolls.
Release Dates
When you turn your Momiji doll upside down, you'll not only find the hidden paper for your own message, dream or wish, but you'll also see that each doll is marked on the base with the year that it was released. The very first Momiji dolls were launched in 2005.
Limited edition dolls
Limited edition doll are always hand-numbered on the base.
Limited edition dolls are usually packaged in our signature boxes or special gift packaging. We usually produce limited edition Momiji when we work with guest designers or for seasonal events like Valentine's Day or Halloween. Edition size varies from release to release; you can find out how many pieces of a particular doll were made on The Archive page.
Core dolls
Core dolls are Momiji which are not limited edition. Within the core collection you'll find dolls to celebrate birthdays, best friends, and fabulous people. Core dolls are not hand-numbered but they do have the year of production on the base and are usually available for between 6 and 18 months. However once we've announced that a Core doll is sold out we will never repeat production in the same format again, so once they're gone, they're gone.
Finding rare dolls
Because each Momiji is limited either by time or edition size, you might need to do some detective work to track down particular dolls. eBay is usually a good starting point and there are also Momiji collectors groups on Facebook where friends from all around the world help one another look for particularly hard to find releases.
Another idea is to set up a Google Alert for a particular doll, so you'll get a notification by email if someone mentions it on a website or puts one up for sale.
Packaging
We get excited by packaging. Shiny boxes and colourful tubes make us happy. Over the years we've presented Momiji many ways; from our original ribbon-tied bags, to collectable tins and of course our signature noodle boxes. The Archive gives you details of how each doll was packaged.
Our packaging is too lovely to throw away and most collectors keep it safe. Packaging is an important part of a Momiji doll, it tells you about their character and their favourite things. Keeping it will also mean that your collection is much more valuable.
We love to see photos of your Momiji! Share your snaps with us on Facebook or Instagram. #momijidolls #momijicollection