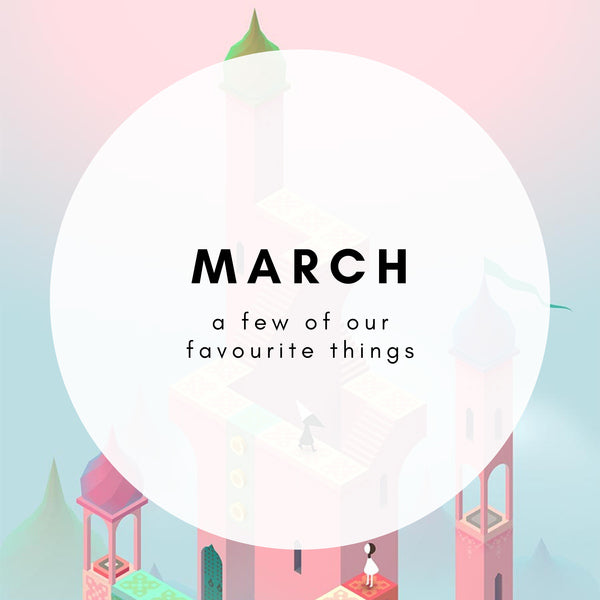 Well. March 2020 did not go quite as expected. We're in the middle of some unsettling times right now. We hope you're all doing ok and managing to stay well and keep in touch with the people you love. 
We know that some of you will be working extra long hours (thank you!), many of you will be feeling worried and distracted. Lots of people will be bored and longing for something to add a little structure to the days. 
We were planning to kick off this new Monthly Favourites blog series anyway, but we hadn't quite imagined that we'd be doing it under these circumstances. 
Hopefully you'll enjoy our round-up of the things and people that have been making us smile and keeping us entertained over the past month.
Something to read:
Such a Fun Age by Kiley Reid
This book has been getting heaps of critical acclaim and it's easy to see why. I read it in a couple of evenings and became absorbed in the characters. It's full of sharp observations and uncomfortable questions. Recommend!
Something to play:
(Images by ustwo games)
Monument Valley 2
I'd never really fallen in love with digital games but I've recently made a beautiful discovery. The guys and girls at independent studio, ustwo games have made their mobile game, Monument Valley 2 absolutely free for a little while. It's a totally gorgeous experience with enchanting graphics and real heart. Download it and play on your phone - free from Google Play and the App Store now!

"Guide a mother and her child as they embark on a journey through magical architecture, discovering illusionary pathways and delightful puzzles as you learn the secrets of the Sacred Geometry. Sequel to the multi award-winning mobile game Monument Valley, Monument Valley 2 presents a brand new adventure set in a beautiful and impossible world."
Something to eat:
THIS STUFF. I've had to use this photo from the internet because the bar I had is a now just a fond memory... in this instance it's a good thing that I can't leave the house to buy more. Do you like Ritter Sport chocolate? This is the best flavour. The cornflake one is a close second. (Anyone know what's 'sporty' about it?!)

Someone to lift your spirits:
This is Zoe Murphy. We have been big fans of her work for years and years. Zoe is shining brightly in these gloomy times. She's rocking Instagram stories, providing defiant outfit inspiration (zero grubby lesiure wear here), she's also sharing creative inspiration from her studio in Margate. Zoe specialises in print, colour, textiles and sunny optimism. She's running collaborative classes via instagram too. Follow her and feel better. 
And finally, some signs of Spring:
This is our Momiji Photo of the week on Instagram. It was taken by Benny who is such a lovely guy;  we've met him a couple of times in China and he always takes such great Momiji pictures. Congratulations, Benny and thanks for this gorgeous shot of Blossom in the blossom!
So what do you think of our round-up? Tell us your favourite things this month; we'd love to know. Share them below. Spread the love.