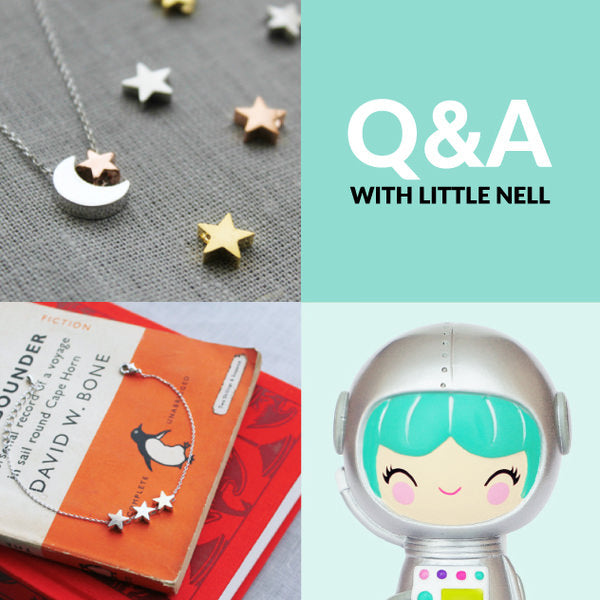 When Helena and I began creating our Explore Momiji doll we wanted her to stand for something very definite. We hope that she will sit on your desk or beside your bed and remind you that your life is full of possibilites. Yep, she's cute, but she's also a symbol of getting out there and DOING all those things that you dream about but tend to push to the back of your mind when you listen to that inner voice of doubt.
This week we've teamed up with Little Nell, an independent jewellery company created by Penny Amey. Not only did we feel a celestial connection with her star jewellery, but we'd also been loving reading her honest and useful blog posts about how she took the bold step of quitting her job and following her dream of creating Little Nell. 
We caught up with Penny to ask her about making the leap into being self-emplyed and how life has changed since she took that first step.
Hello Penny! Can you tell us about how Little Nell began?
I started making jewellery for myself a few years ago because I couldn't find what I was looking for on the high street. After a gentle nudge from a couple of friends, I decided to start selling online and things grew from there.
What's a typical day for you?
I always start with a cup of tea packing orders from the day before. Once those are done I'll catch up on emails and get the less exciting admin jobs out the way. I try and give myself a little time each day to do something creative, whether it's working on new photography, or working on a new collection. It's very seasonal so each week can be different, and towards Christmas order packing takes up the whole day!
What's the hardest thing about working on your own?
Most days I really enjoy having the flexibility of working alone, but sometimes it can be hard to motivate yourself when you know you can just stay in bed and watch box-sets if you want to.  I'm generally quite positive and upbeat, but I have the odd day where I start to doubt myself, and decide I want to change everything all at once. It's difficult not having someone there to snap you out of it, but I have some lovely friends who soon get me back on track!
What's the best thing about working for yourself?
So many things! I love that I can create my own routine, but also throw it out the window if I decide to do something else last minute.  Never having to ask for holiday, making a living doing something I love, never getting caught up in office politics! 
What advice would you give to anyone thinking of starting their own business?
The best advice I had was to stop thinking about setting up my own business, and to just do it. You'll learn so much more doing, rather than talking about doing. It doesn't need to be perfect from the beginning; you can grow and evolve things along the way until you find your own identity.
What were you most nervous about before you made the leap to quit your job?
Two things; being lonely and losing job security. But if I need company, I hot desk with a friend, or visit a café. And I think not having the security of monthly salary is what keeps me motivated. I can't let myself get lazy, it inspires me to keep creating and growing the business.
When are you happiest?
When I'm with friends, there's good food, a long drink and the sun on my face.
Friday nights or Sunday mornings?
Friday nights, on the sofa, in my pyjamas, with the fire on.
In the kitchen what's your speciality dish?
Mexican meatballs.
What are you listening to at the moment?
The last 3 albums I bought were Django Django, The War on Drugs and Chic's Greatest hits so it's quite varied!
What's the most important lesson life has taught you?
Prioritise what's most important to you, and do what makes you happy.
You can find out more about Little Nell by heading to @little_nells on Twitter and Instagram and follow on Facebook here.
If you'd like to enter our Little Nell contest and win an Explore Momiji and beautiful handmade jewellery then head over to our competitions page.