Dedicated to Dance. An Interview with Eva Davies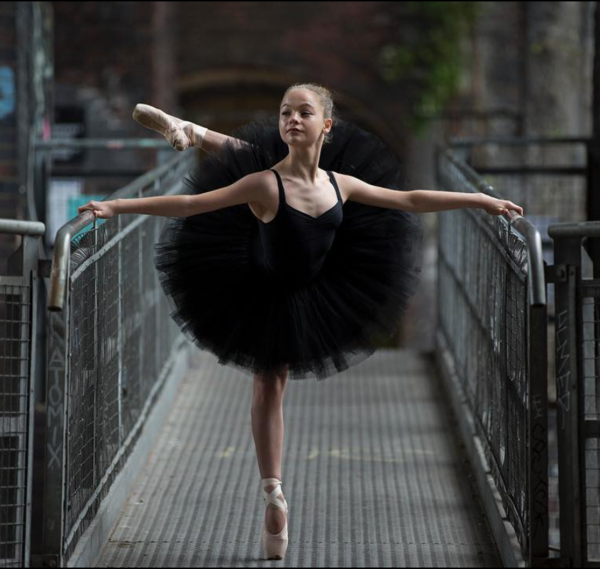 Despite only being two and a half years old when she attended the early design meetings, Eva Davies has been an honorary member of the Momiji family since we began back in 2005! Her mum, Emma, was a part of the Momiji founding team and over the years we've watched Eva grow into an amazing young woman as well as an extremely talented ballet dancer. 
Eva has performed at Sadlers Wells and trained at The Royal Ballet School, Paris Opera School and in New York with American Ballet Theatre. She's 17 now and studies at The School of Hamburg Ballet where she is on her way to becoming a professional dancer. She's home from Hamburg for a few days so we wanted to catch up for a coffee and give her our Nutcracker set which was special to us at Momiji HQ for many reasons but especially because it reminds us of Eva and her ballet journey. 
We thought you might like to know a bit more about Eva's career so far and what life is like when your days are dedicated to dance...
Hi Eva! Welcome home. How's life in Hamburg? 
It's really good! The hours are long and it's full-on but it's good. We have school every day except Sunday. There are lots of rehearsals; we're dancing the John Neumeier repertoire at the moment. He's director of The Hamburg Ballet and a world renowned choreographer. We're building up 80 of his pieces and we're going to perform them all in May and June. We're also preparing for a performance called Beet which is John's choreography to Beethoven's music; we'll perform that at the end of this year. 
Can you tell us what a typical day at ballet school is like? 
At the moment I live in student accommodation which is a 15 minute walk from school. We always start ballet classes at 9:45am but we arrive an hour or so before to warm up. We dance for an hour and 45 minutes for the first class. Next we'll have a technical class which could be modern, pointe, classical or contemporary dance. We eat lunch at school and then continue in the afternoon with either rehearsals for a performance or with academic classes. We study German, anatomy, music theory and dance history. On an average day we're usually done by 5pm but we can often be rehearsing until 7 before heading home to eat and sleep! 
We've watched you dance since you were little, can you remember when you first started to dream that it could become a career? 
I've had ballet classes since I was at primary school and as the years went by my dance teachers started to suggest that I should attend summer schools and extra lessons. I think they spotted that I had potential and they helped guide me towards opportunities to progress. As I got older I wanted to see where I could take it and I hoped that I could get into a good school and eventually a company. The more I danced the more I loved it. 
The Nutcracker was the first professional ballet I ever saw. I went with my family when I was little to see a performance by The Birmingham Royal Ballet. 
Ballet is super hard sometimes. Every dancer will know the challenges. It's so difficult and there are some moments when I hate it. But I need to do it. I feel like there's something missing if I don't do ballet for a couple of days. I know that sounds bizarre but it's part of me now. 
It's hard physically and mentally. My body is my work which can be stressful. Everyone at ballet school has to accept that you'll get injuries and you're pretty much always sore! It can be challenging but the highs outweigh the lows and it's become something that I love and I need to do. 
Moving to another country and spending lots of time with new people must be a really intense experience. How have you found it? Who makes up your support squad? 
I didn't know anyone when I first moved to Hamburg but I made loads of friends within the first few weeks. We're together all day every day, so we've made close connections really quickly. I'm moving into a flat with two of my friends, Chloe and Tyler soon. They're ballet dancers too so it will be great because we'll share the same daily routine. Our morning alarms will go off at the same time and we'll cook and eat together in the evenings. 
I'm the only English student at the school. There are students from Australia, Italy, Germany, Spain, China, Japan and the Philippines. I didn't speak any German when I arrived so I'm trying to learn, but luckily all our classes are in English! 
How does performing feel? 
The feeling of performing cancels out all the pain that comes with training! Each time you perform it's unique. The adrenaline keeps me excited. I find that once I calm my nerves and focus then I really enjoy it. 
What's your ideal day off? 
Definitely a lie in! Followed by eggs on toast. If it's sunny (which is not all that often in Hamburg) then I'll walk to the park with my friends. We often get the train into the city centre and do some shopping. Hamburg is a lovely city with lots of cobbled streets and old buildings. We love going to the main square and there are pretty views over the water. Sundays have to be productive too as we need to meal-prep, we have to eat healthily so it's important that we have food ready for the rest of the week. I usually get together with my friends to do that which makes it more fun. 
Which ballets are on your list of dream performances? Are there any particular roles you'd love to dance? 
I'd love to dance Jewels by Balanchine, also Giselle, Romeo and Juliet and even though it's super, super hard, I'd love to perform Swan Lake! 
Onto the quick-fire round... 
Friday nights or Sunday mornings? Sunday mornings!
Pizza or sushi? Sushi
Podcasts or playlists? Playlists.
Pyjamas or tutus? Pyjamas! 
Thanks Eva! 
You can find our limited edition Nutcracker set in the shop here. This weekend is a Flat Rate Shipping weekend, so it's the perfect time to treat yourself to something special. Just choose the PROMO shipping option at the checkout and you'll get the discounted price.