A Truth Universally Acknowledged...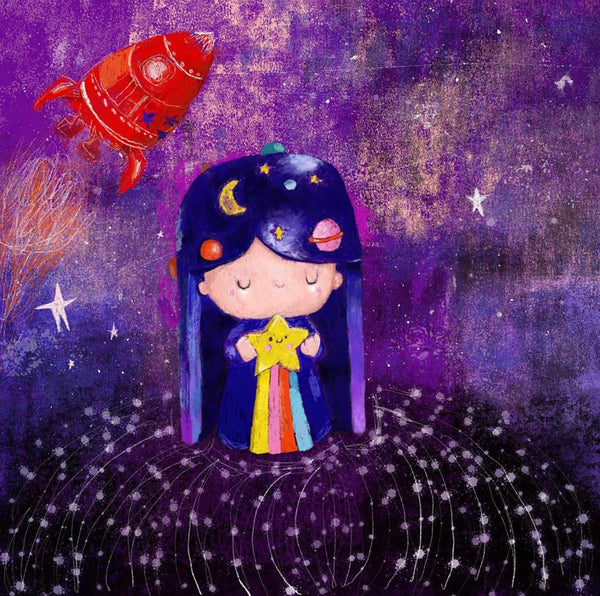 Since we launched our most recent collaboration with POP MART you guys have been making your love for Cosmo known, loud and clear! We've been noticing so many awe-inspiring photos of her on Instagram and some wonderful illustrations too. 
We wanted to share some of our favourites.
First up this stunning artwork by @mindy_lacefield - I'm in love with the texture and the colours. So gorgeous.
Next we have this beautifully balanced photo by @etiernia who says that Cosmo is her favourite character from the Explore series. 
Katt of @irregularthinking put her passion and skills for night photography to good use with this shot. She took it on the evening of the SpaceX launch at the end of May. Love this!
These dreamy close-up shots by @mostly.momiji capture all the details on Cosmo's intergallactic hair. 
These images are 3D digital illustrations by @sabrisdv - so clever!
If all this has ignited a cosmological curiosity in you then we leave you with two women whose careers are quite literally, out of this world. 
This is Dr Maggie Aderin-Pocock MBE. She's an award winning British space scientist and space educator. She is an Honorary Research Associate in University College London's Department of Physics and Astronomy and has co-presented the BBC's long running programme The Sky At Night.
Despite being dyslexic and initially disregarded at school, she soon came to realise that she had a scientific brain, she says "...science saved me from the doldrums."
Maggie has worked on a huge variety of projects for private, government and academic intuitions – she has worked for the Ministry of Defence developing instruments to detect landmines and was part of the team that developed the Gemini Telescope in Chile which analyses starlight to help better understand distant stars. She has worked as the lead scientist in the optical instrumentation team at aerospace manufacturer Astrium.
Dr Aderin-Pocock says 'Over the years, I've spoken to 300,000 schoolkids, and my main message is 'have a crazy dream', my crazy dream is reaching for the stars, because by having a crazy dream, you overcome hurdles.'
Born and based in Louisiana, 19-year-old Alyssa Carson is likely to be one of the first few people to go to Mars in the early 2030s.
After enrolling in the Advanced Possum Academy in October 2016 when she was just 15 she graduated and become certified to go to space. This made her the world's youngest astronaut in training. Alyssa has attended all of NASA's 19 space camps and is the only person in the world who completed the NASA passport programme, having visited all sites.
"I would tell anyone to follow their dreams no matter who they are. I know that at three saying I wanted to be an astronaut and go to Mars was the craziest dream I could have picked, but it is becoming more and more of a reality. It is important to work hard after your dreams and talk about them because you never know where opportunities might be. So follow your dreams and never let anyone take your dreams away from you."
Both Maggie and Alyssa's ambitions have been dismissed as 'crazy' along the way but they're both out there proving those judgments wrong and living extraordinary lives.
We hope that Cosmo will become a symbol for following your dreams, no matter how enormous they might seem. Maybe she'll sit on your desk as you study or beside your bed as you dream of future achievements.
We'd love to know about your big ambitions. What do you dream of achieving one day? Who inspires you? Leave us a comment below.
We'll leave you with this final Cosmo photo by @naypaul whose photography and artwork is always inspirational. 
Find your Momiji icon here. Which one symbolises your dreams for the future?