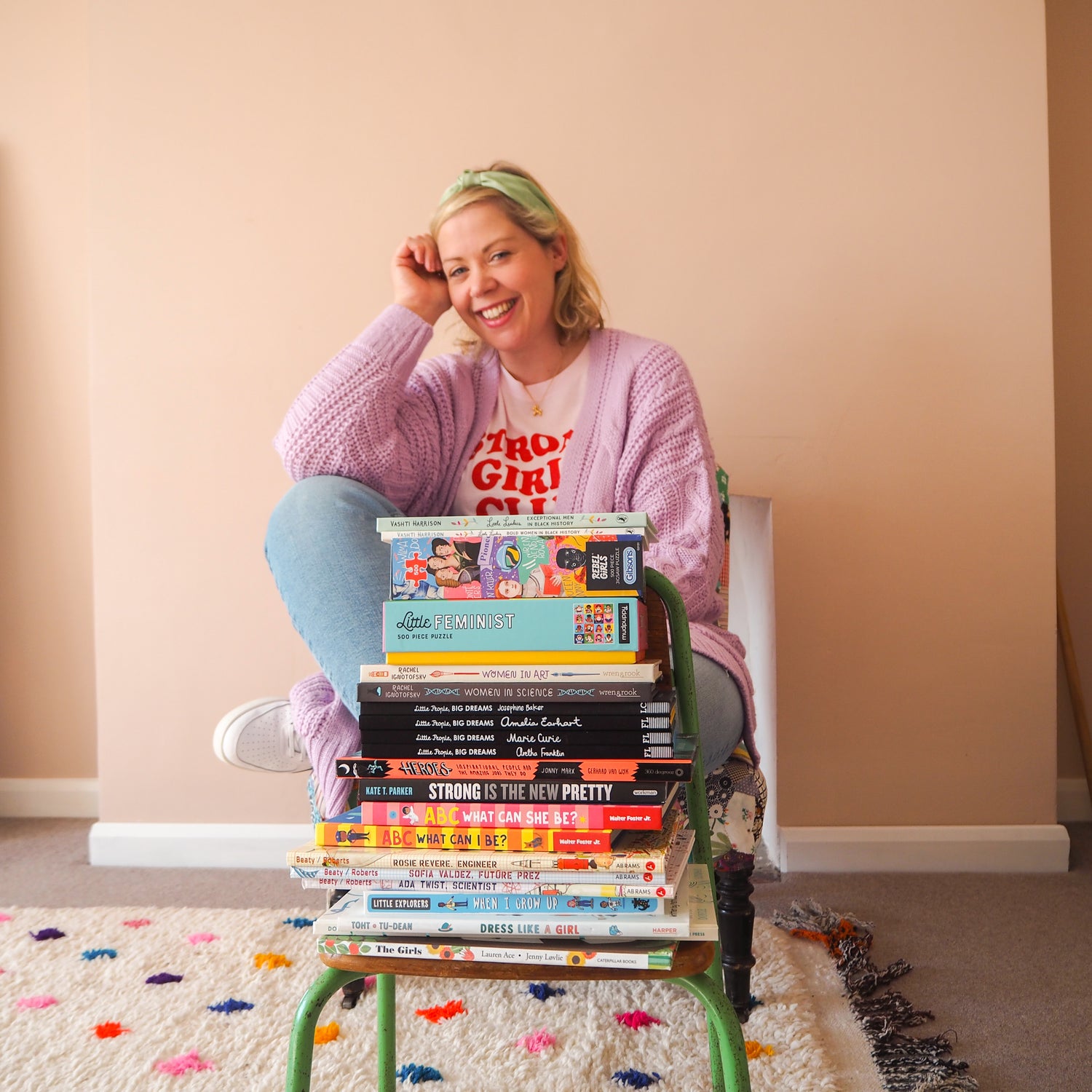 You know how there are those people you follow on Instagram who, although you've never met IRL, you just know they'd be the kind of person you'd like to eat cake with?

That's how I feel about Gemma from Mutha.Hood. I've worn my Strong Girls Club t-shirt with pride for several years and given them to my goddaughters and friends too. 
In addition to her clothing line, Gemma has also carefully curated a collection of beautiful books, and so with World Book Day upon us and International Women's Day just around the corner we caught up with her for a chat (…sadly minus any cake.) 
Happy World Book Day, Gemma! We've nominated you to read us a bedtime story! What shall we read?

Dreams for our Daughters by Ruth Doyle and Ashling Lindsay has got to be one of my favourites.
What do you love about this book?
To me, it's the love letter I wish I had written to my children. It's filled with all of the hopes and dreams that I have for them with the most beautiful, eye catching illustrations that are filled with such emotion.
Can you tell us a bit about the history of Strong Girls Club?
The Club was created by me as a way to encourage women and girls to know the strength of their voice and opinion. I had a tricky time having my youngest daughter and I wish I'd had more confidence in my own voice during that experience as I think it would have helped to avoid the subsequent PTSD. The purpose of the Strong Girls Club is to help others know that they're not alone and to remind them that YES they are important!

You've added a gorgeous collection of books to your store. Why was it important to you to make them part of the Strong Girls story?
I think books are a wonderful tool, they teach lessons to our children about their own personal value without them even knowing that's what the words on the pages are doing. All of the books that are in shop support the Strong Girls Club message and ethos. They either show people in the past who have paved the way to inspire the readers, they encourage them to know their worth, or help them to discuss and understand their emotions. Each of them has been tested and loved by my girls and I'm incredibly proud of the edit that we offer.


We'll be celebrating International Women's Day next week. Does the day have a different meaning now that you're Leader in Chief of such a cool girls gang?!
It's always meant a great deal to me, it's a day to really shout about the achievements of women and I have loved celebrating it. I love how the Strong Girls Club message aligns with it, but really what's given both IWD and SGC an extra level of meaning for me is having had my own girls. To me, it's another wonderful opportunity to talk to them about the achievements of other women around them, and to encourage them to have belief in their own potential.

What were your favourite books to read when you were little?
I was big fan of Princess Smartypants; I was raised by my Mum, so a book with a strong female lead was always a big hit with us.

Is there a memorable book or a line from literature that means something special to you?
I think I have to refer back to Dreams for our Daughters here...because of my girls:
'So get ready for life, planet earth has been waiting for the gift that is you and the hope you're creating.'
Big thanks to Gemma for taking the time to sharing such a gorgeous book with us. Follow her on Instagram @mutha.hood for regular dose of joy.