Cookie's Tiramisu Parfait Pots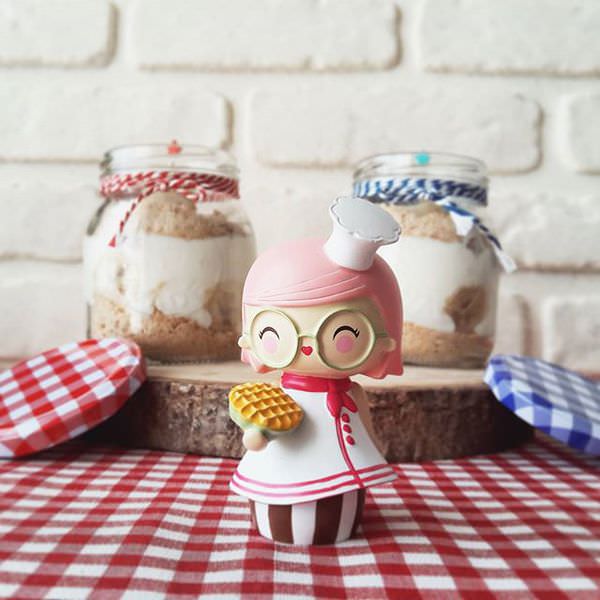 Sometimes at this time of year you want to get your bake on without having to turn your oven on. Take a leaf out of Cookie's recipe book and make these Tiramisu Parfait Pots; they're perfect for lunch outside. 
Ingredients
24 ladyfinger sponges
112g or 1/2 cup granulated sugar
2 teaspoons vanilla extract
225g or 1 cup mascarpone cheese
120ml or 1/4 cup brewed espresso
2 tablespoons cocoa powder
4 teaspoons ground cinnamon
Method
Turn the sponges into crumbs. You can do this with your hands or a food processor. You don't need to be too precise. 
In a medium bowl, whisk together the sugar, vanilla extract, mascarpone cheese and brewed espresso until the ingredients are evenly distributed and there are no lumps in the mixture. Don't panic if you feel it's too thin - it's all good!
Spoon a tablespoon of ladyfinger crumbs into each jar, before topping off with a tablespoon of the sugar, mascarpone, and espresso mixture from the second step. Repeat until you've used up both the crumbs and cream mixture, making sure to finish the top of each jar with the creamy mixture. 
Refrigerate for at least 3 hours, preferably overnight. Just before serving, whisk together 2 tablespoons cocoa powder and 4 teaspoons ground cinnamon in a small bowl. Sprinkle over each jar. If you're taking them out for a picnic then put lids on the jars. Keep them refrigerated for as long as possible as they really need to be served chilled. 
Enjoy! You can find Cookie in the shop here if you're looking for a kitchen guardian or the perfect present for the person who makes your life sweeter. 
Thanks to @zuzununhalleri on Instagram for the image!