10 Things we've learnt in 10 years of Momiji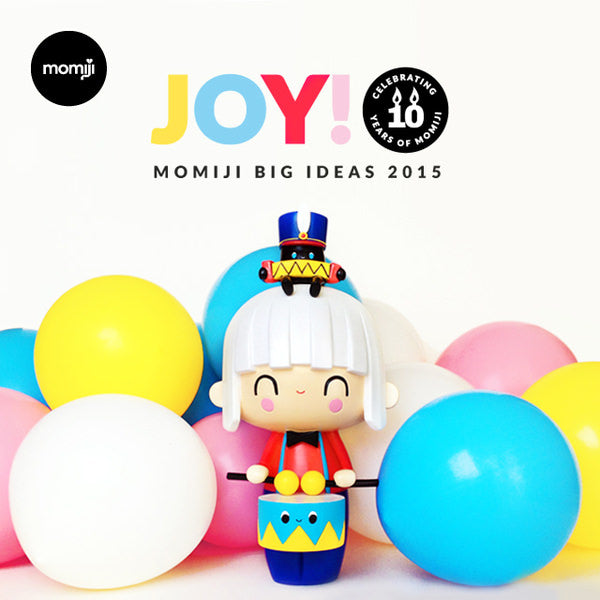 This is a bit of a special one!
Ten years. TEN YEARS!
Yep, it was ten years ago that we embarked upon our first Momiji sketches and discussions. I can honestly say we had no idea it was going to turn into this! 
We've been doing lots of talking and reflecting about our journey and so we decided to put together 10 things we've learnt along the way...
1. PEOPLE are number one. We couldn't have made it through ten years without good people. We know how lucky we are to have THE BEST customers and collectors. Your passion, enthusiasm, ideas, opinions, love, support, kindness, patience, letters, pictures, emails, comment, likes, stories and photos rock our world. And we're thankful for each other too; we're a small but tight team and I'm going to stop there because I'll write something cheesy.
Our favourite showing-off picture. Us with Gwen Stefani. Although we did feel a little under-dressed.
2. TRAVEL is good for the soul! We've been bewildered but elated in Tokyo, inspired in New York, had our kawaii-fix in Korea...and then there was the time we were on our way to LA and the man at Austrian passport control managed to make Helena's passport FALL APART and she had to travel back home to get a new one (which she managed WITHOUT MISSING HER FLIGHT!)
Travelling was a major inspiration for the creation of Momiji and since it began we've been lucky enough to embark on quite a few adventures around the world. We've made friends who have become Momiji Family in many different countries. Discovering different cultures and ways of life is right up there on our list of things that have helped to form and shape Momiji.
3. PEOPLE SOMETIMES SAY MOMIJI WRONG. Momooji, Mimojo, Momidgi, Mommagee...tomato-tomarto! Maybe WE'RE saying it wrong?! We pronounce it Mom-ee-jee. But we don't really mind how you say it ;)
4. COLLABORATION IS COOL. Since our first designer collaboration with Joanna Zhou back in 2007 we have loved teaming up with artists from all corners of the globe. Amazing things happen when you open yourself up to new directions and a fresh perspective. 
5. FOOD AND COFFEE MAKE EVERYTHING BETTER. I am probably guilty for the dominance of this. We do like a good opportunity to eat. We've been lucky enough to have some memorable Momiji meals in all sorts of places. Food is always in a priority in good times and bad and sharing it with people is essential.
6. STORIES ARE REAL. In an increasingly digital world it gives us a warm fuzzy feeling to know that Momiji dolls stand for something. They're part of hundreds and thousands of stories of both celebrations and sad times. We get to hear some of these stories at HQ and whether a Momiji has played a part in a proposal or has been a way to say 'stay strong' it means a so much to us. 
7. IT'S DIFFICULT TO EXPLAIN WHAT YOU DO WHEN YOU MEET PEOPLE AT PARTIES. 'I make dolls' is usually met with a look of confusion. But if you show them a picture they immediately start choosing their favourite Momiji. 
8. FOLLOW YOUR GUT. We don't always get it right but when we're making decisions about the big stuff we follow our instinct. Our advice would be not to compare yourself with other people. Be inspired by them but don't worry if you're different. We've had opportunities along the way to do things which just haven't felt right. Momiji is an extension of us as people and the designers we work with. We only create characters we love and we only work with people we admire. And if we're in doubt about what to do we talk to a dog about it. Milo and Silver get consulted regularly. They're very wise. 
The Momiji dogs, Milo (top image) and Silver. Sources of infinite wisdom.
9. KINDNESS CAN CHANGE THE WORLD. It's true. And that's all we have to say on the matter.
10. CELEBRATE! That's what we're doing this year. 10 big, shiny, scary, adventure-filled years. We're celebrating all the people who have made this possible and we're pausing to say a BIG THANK YOU. Celebrating is our BIG IDEA for 2015 and we're celebrating with the introduction of Joy. It's easy to fret about the past or become preoccupied by the future but all we have is RIGHT HERE, RIGHT NOW so we're blowing up the balloons and turning up the music. Thank you for being part of our 10 year celebration.